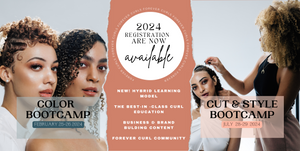 Forever Curls Academy 2024 Offering
Color Bootcamp

Cut & Style Bootcamp

Bootcamp Bundle

Stylist Locator Certification
Forever Curls Digital Membership
Expert Guidance

The Forever Curls Digital Academy Community provides access to a wealth of knowledge and expertise from industry-leading professionals specialized in curly hair.

Members can benefit from expert guidance, tips, and techniques shared by seasoned stylists who have extensive experience working with all curl types, led by 3x American Curl Influencer of the Year, Leysa Carrillo.

Curly Hair Education

The Forever Curls Digital Membership community offers a comprehensive and in-depth education on curly hair, covering various topics such as curl types, product recommendations, styling techniques, and maintenance tips.

By joining, individuals can enhance their understanding of curly hair and develop the necessary skills to become proficient in curly hair styling, coloring, blonding & cuts.

Supportive Community

Being part of the Forever Curls Digital Academy Community means joining a secure group of like-minded individuals passionate about curly hair. Members can connect, interact, and collaborate with fellow stylists, in a supportive and inclusive environment.

This community fosters networking opportunities and allows for the exchange of ideas, experiences, and ongoing support from Leysa and curl enthusiast peers.
Meet Your Instructor
Introducing me.
And this is my story.
Originally from Cuba, Leysa Carrillo is a vibrant hair colorist and Curly hair expert based in Las Vegas, Nevada with over 14 years of experience. She is a nationally recognized industry leader for her hair color transformations on textured hair and continues to pave the way with her artistic flair and creative techniques. As the founder of Forever Curls Academy and the Global Humanitarian Tour, Leysa is passionate about taking education to the next level in areas such as hair care, trending styles, and the curl movement. When she's not at her salon working with clients, she appears as a respected educator and panelist around the country at some of the most influential beauty industry events and shows.
With viral content featured on popular publications such as the INSIDER, Leysa has curated a strong social media presence and strives to use her platform to fuse creativity with technique and inspire others through engaging education. Leysa's contagious smile and energetic personality have carried her through a successful career with global recognition. She was nominated for the American Influence Award in 2017 and 2019 and won in 2020 and 2022. She was named Modern Salon's 2017 Top 100. Additionally, Leysa is the first female to win two Behind The Chair #OneShot awards in one night.
Her creative projects inspired by Lacroix and Halo Top Ice Cream led to the publication and features in Allure Magazine, inTouch National, Daily Mail, Yahoo News, Seventeen Magazine, Nylon Magazine, Delish, and Pop Sugar.
Today, Leysa is a Brand Ambassador for both Redken and Mizani helping to bring her passion for textured hair to stylists across the country.
Our Students
the lovely things they say
Leysa, thank you so much for being so transparent and willing to help each stylist become more successful! You truly impacted how I feel about my business and my confidence! I could go on and on on about how impactful this class was for me!

-Jasmin

Words cannot express how it feels to learn a technique specifically for curly texture that can change many lives. So proud to be a certified Forever Curls Stylist!

-Jalecia

I am so thankful that Leysa has chosen to share her love, passion, skills, and stories of her curly hair journey. I now feel confident to take on all types of textured hair!

-Karen
What if I told you there was a better way...
Learn with me, in a private, personalized session - just me and you - in my studio in Ft. Lauderdale, Florida. We'll spend a full day together practicing techniques, consultation tips, and how-to implement Forever Curls Business strategies into your day-to-day salon life!
My American Vida Podcast
19. The Power of Spirituality
Welcome to the latest episode of My American Vida! In this episode, Leysa has a heart-to-heart conversation with her close friend and one of her Forever Curls culture team, Yinnin Chacon, a successful entrepreneur, and hairstylist from Florida
18. Out with the Old & In with the New
Happy New Year! Thank you all for all of your support in 2022. I am so lucky to be surrounded by such an uplifting and supportive community. Our first episode of 2023 is a compilation of my favorite moments from our 2022 episodes.
17. I Started Over Again!
Leysa is back with another episode but this time she's coming from Florida. In this episode, Leysa shares recent life updates including her move from Las Vegas after 18 years there, leaving her stable salon business, house behind, and how she is adjusting to her lifestyle in Miami.
Become a Forever Curls Hair Model
As a Forever Curls Hair Model, you have the opportunity to fully embrace and celebrate your natural curls.

Showcase your unique curl pattern, texture, and beauty, helping to promote self-acceptance and confidence in your curly hair.

Being a Forever Curls Hair Model means receiving professional styling and care from experienced curly hair specialists.

Have access to top-notch styling techniques, tailored product recommendations, and expert advice to enhance and optimize your curls.
The Forever Curls Academy
is an intimate hands-on workshop series and certification experience for stylists who are ready to elevate their careers powered by the best business, social and curl education in the natural texture space. Join me and my Forever Education Support Team as we create a fully immersive experience built on trust, community-building, and inspiration.
I knew something had to change.
I've partnered with our industry's top educators to ensure you're receiving the best-in-class education to elevate your career from every angle! My workshops are sponsored by global brands such as Redken, Mizani, Malibu C. ColorTrak, AQUIS, and Pulp Riot and feature guest speakers from Beauty Finance Group, Malibu C. Redken, Mizani, OMG Artistry, and industry experts such as Monae Everett and Brenda Armaral to name a few!
My Academy is designed so that you can customize your experience and level of investment based on your individual career goals. I've created an easy-to-follow career path so that you can ultimately get certified as an industry-recognized Forever Curls Master Stylist and get listed on my Salon Locator–coming soon!
Is Forever Curls Academy For You?
You are passionate about curly hair: If you have a genuine love and interest in working with and styling curly hair, Forever Curls Academy is the perfect place for you. The Academy caters specifically to individuals who are dedicated to understanding, embracing, and enhancing the beauty of natural curls.

You want to expand your knowledge and skills: Forever Curls Academy provides comprehensive education and training on all aspects of curly hair care, styling techniques, product knowledge, and business development.

You are a hairstylist or salon professional: Forever Curls Academy is designed for hairstylists and salon professionals who want to specialize in curly hair. Whether you are just starting your career or have years of experience, the Forever Curls Academy is for you
You value community and collaboration: Forever Curls Academy provides a supportive and inclusive community for individuals passionate about curly hair. By joining the Academy, you become part of a network of like-minded professionals who share knowledge, insights, and support.

You want to grow your curly hair business: If you are a salon owner or hairstylist looking to expand your curly hair clientele and grow your business, Forever Curls Academy offers tailored strategies and resources to help you succeed.

You believe in embracing natural beauty: If you are passionate about promoting and embracing natural beauty, particularly in the context of curly hair, Forever Curls Academy aligns with your values.
FAQ
Can I buy Forever Curls Academy Bootcamps separately?

Yes! You can purchase each class separately. To certify as a Forever Curls Master Stylist and be listed on the Stylist Locator, each participant will have to attend all Forever Curls Academy Bootcamps and Certification programs.

Can I bundle the Forever Curls Academy Color and Cut & Style Bootcamp Programs?

Yes! You can buy both Forever Curls Bootcamp programs at one time and save up to $500 on your investment at check-out!

How Do I get Listed on the Forever Curls Stylist Locator?

To be listed on the Stylist Locator, you must become a certified Forever Curls Master Stylist. This requires attending all Forever Curls Academy Bootcamps, including the Color, Cut & Style program, as well as the Live-model Certification program.

Is Lodging Included in my Registration?

Hotel or other lodging is not included in the cost of your ticket to the Forever Curls Academy Bootcamp or Certification program. You are responsible for arranging and covering the expenses of your accommodations. Further details regarding the location and program will be provided in the Welcome Guide.